FOR IMMEDIATE RELEASE
Paragon Robotics temperature and humidity monitoring solutions provide cost effective multiple sensor coverage of warehouse and product storage facilities to identify cold and hot spots with ambient mapping.
Bedford Heights, OH - October 1, 2020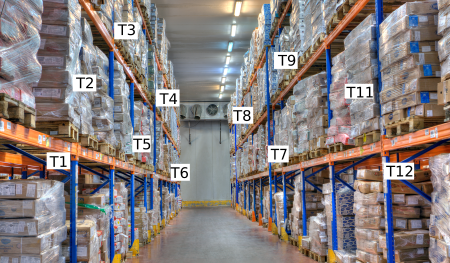 Temperature and humidity mapping on storage racks
Paragon Robotics temperature and humidity monitoring systems with wireless battery operated sensors are used to monitor and insure that all product storage areas are meeting individual product requirements and data reporting compliance.
Not all building management and warehouse HVAC systems provide consistent temperature and humidity throughout an entire warehouse facility. While the systems may indicate a steady and controlled environment of 70F degrees and 30% humidity at certain locations, warehouses and distribution centers will potentially have temperature and humidity variances based on ventilation designs and structural layouts, HVAC cycles, ductwork runs, doors, windows, machinary and occupancy. These variances can result in cold or hot spots throughout a facility that negatively effect product life spans and may lead to product loss due to spoilage.
Paragon Robotics monitoring solutions with cost effective wireless temperature and humidity sensors placed throughout warehouse facility and product storage areas provide real time monitoring and historical logged tracking data to insure product quality, reduce potential spoilage loss, and meet auditing/ regulatory compliance requirements. Our cloud based system with remote access provides immediate alarm notifications when storage areas are outside of product temperature and humidity criteria. Receive text and email alarm messages and/ or integrate alarm beacons and buzzers for additional visual and audible indicators. Sensors are easily added as storage expands and are flexible with on board data storage to handle mobile product and supply chain applications.
Our monitoring system provides a complete compliance and reporting solution with Enterprise level software designed to meet demanding government regulations and industry cGMP quality standards. Paragon's multi-user software environment with administrative privileges, user auditing features, and custom reporting capabilities includes our data logging and analysis software suite with dashboards, analysis charting, custom period reports, and verified alarm history.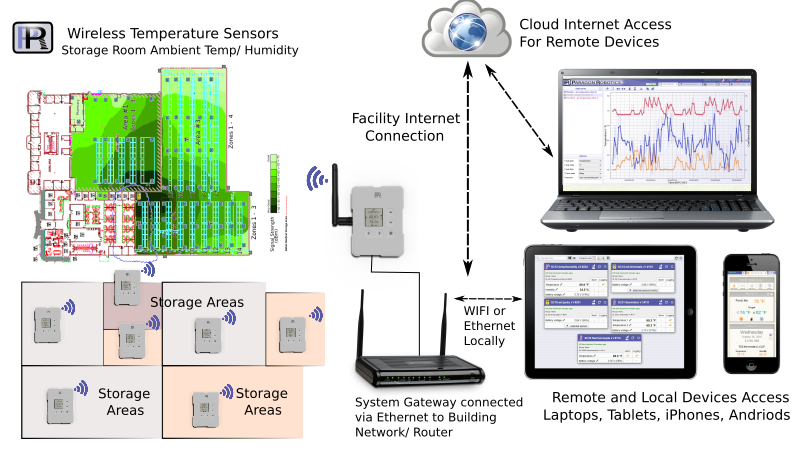 Multiple location sensor warehouse layout
Paragon Robotics is a manufacturer and service provider of sensor systems to both Federal and commercial customers. Our systems and solutions are utilized in markets ranging from warehouse monitoring, energy efficiency and building management systems (BMS), industrial process controls and automation, and energy microgrids and resilience.
In addition, our monitoring systems are extensively used in critical monitoring applications around product cold storage in commercial coolers, refrigeration units and freezers for life sciences (vaccines and medical supplies at hospitals and pharmacies) and consumable goods in the food industry (restaurants, distribution centers and cold chain storage).
For additional information on our monitoring applications, solutions and customer case studies, please visit our product applications and solutions page .