Life Sciences, Medical and Pharmaceutical Storage Solutions
Temperature logging with remote sensors
Reliable Monitoring Solutions
Monitor refrigeration systems for temperature
Utilize external RTDs and Thermocouples to monitor low temps
Monitor cooling units door openings/ closings and set alarms
Optimize production performance and efficiency with power monitoring
Ambient temperature measurements in storage, warehouses, production areas and labs
Custom dashboard, charting and analysis software
Export data, alarms and annotations for audit records
Individual alarm notifications by email and/or text
Paragon Robotics' temperature, humidity, and light sensors are available in both wired and wireless models. These sensors monitor hospital, pharmacy and production storage facilities and their refrigeration systems to ensure product quality and eliminate costly waste due to spoilage.
Our system includes our data logging software suite, providing active real-time dashboards, analysis charting, measurement data, and alarm histories with custom annotations for facility audit requirements.
Paragon's scalable data logging and monitoring systems provide cost-effective solutions for laboratories, research, and production facilities of any size.
Reduce spoilage and Ensure product quality
Maintain operating temperatures for your vaccines, raw materials, and supplies across all your cooling systems and storage areas.
Monitor and record temperature, humidity, light, particulate, and carbon dioxide to ensure an optimal environment for product quality assurance.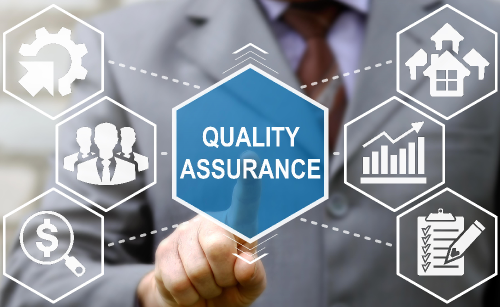 Featured Products
Wireless RTD temperature data logger
Starting At: $208.00
Wireless RTD connection to system gateway Expansion ports for additional measurements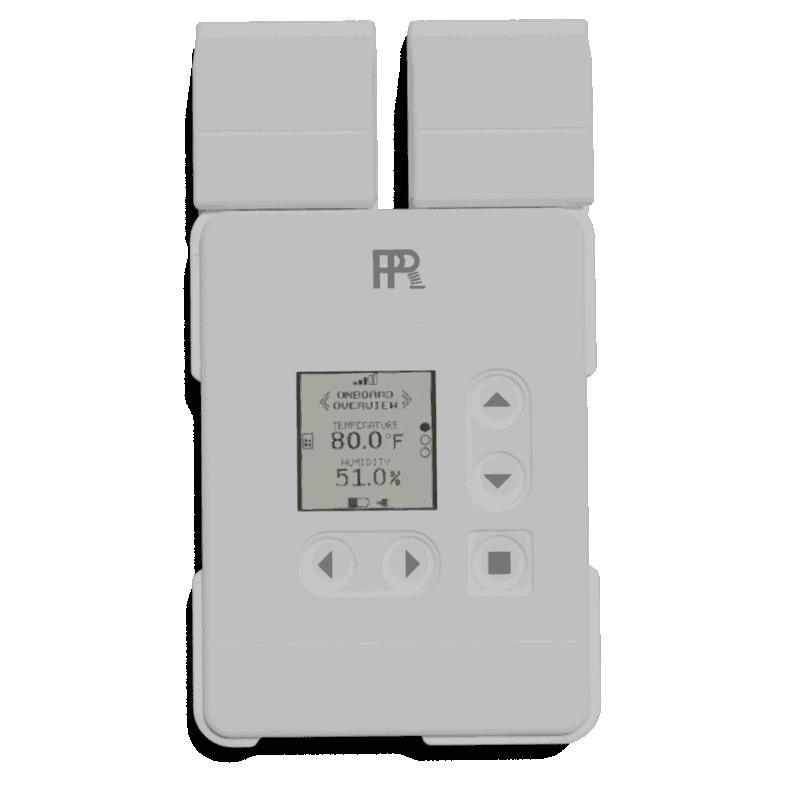 USB 2 channel RTD temperature data logger
Starting At: $208.00
Two RTD probe inputs, USB interface and data storage
Ethernet/wireless RTD temperature
Starting At: $248.00
Wired and wireless network connectivity for RTD probe.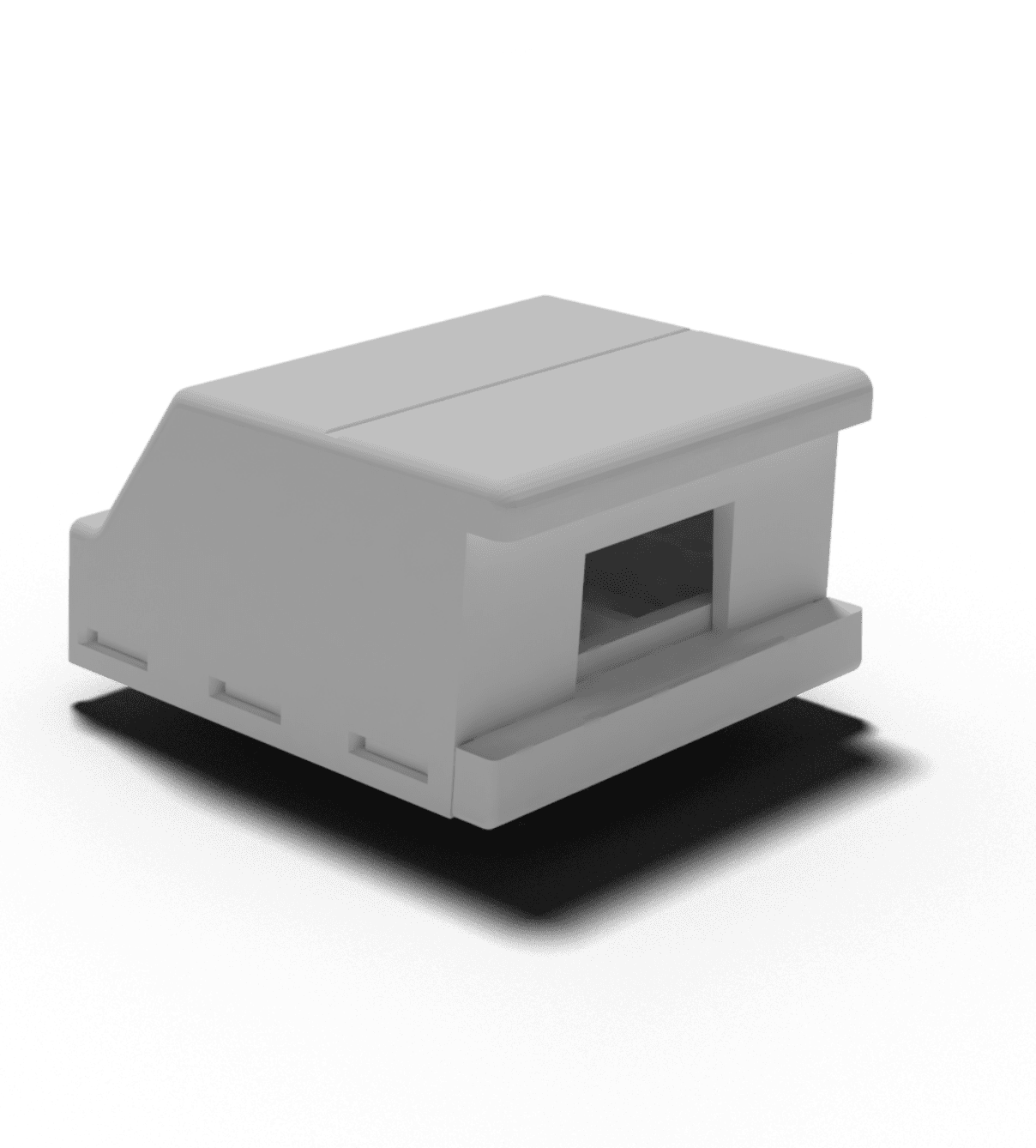 Differential Pressure expansion module
Starting At: $89.00
Monitor pressure between two rooms or air spaces.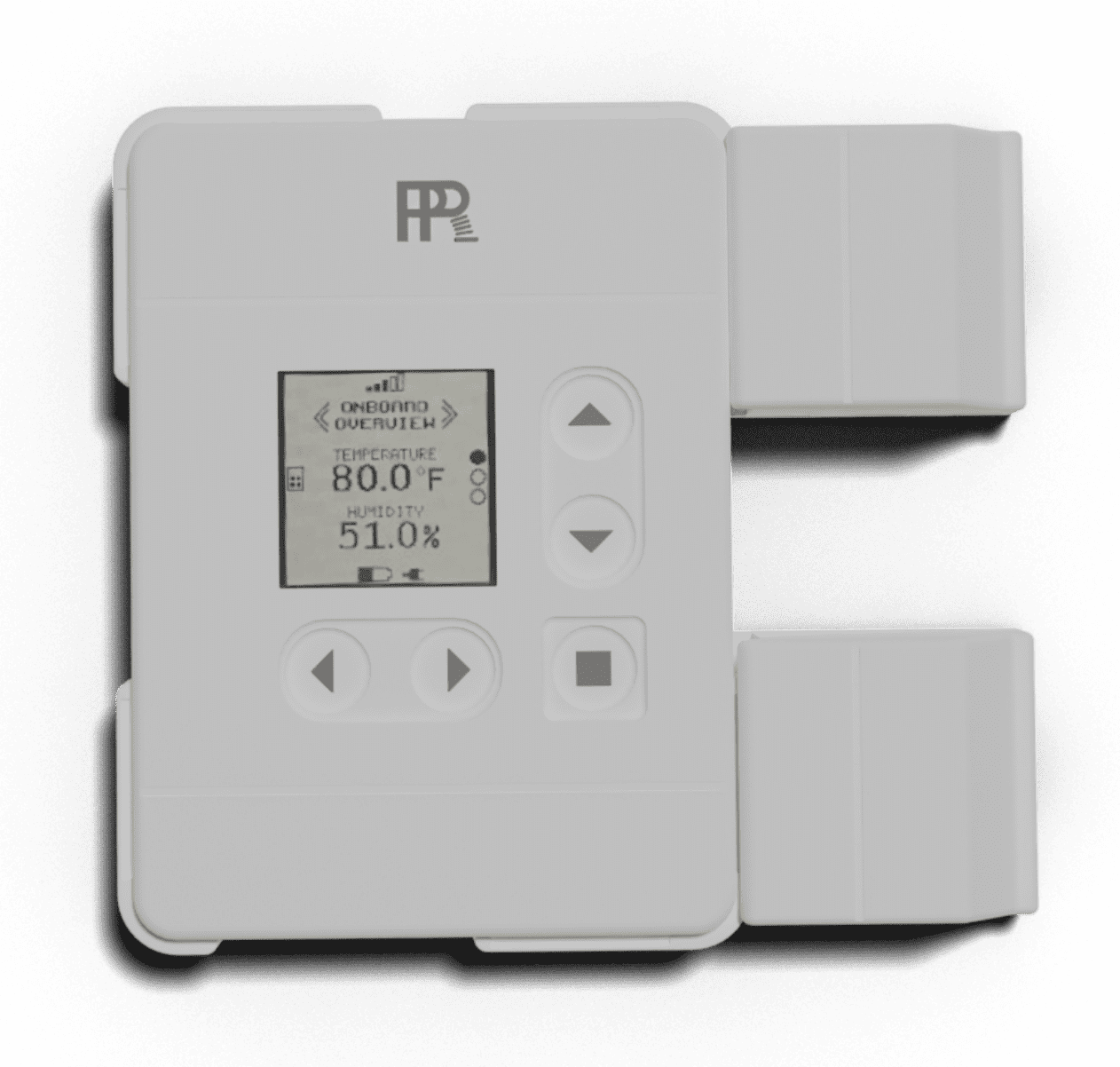 Wireless 2 channel RTD temperature data logger
Starting At: $208.00
Built in temperature and humidity with two RTD probe expansion modules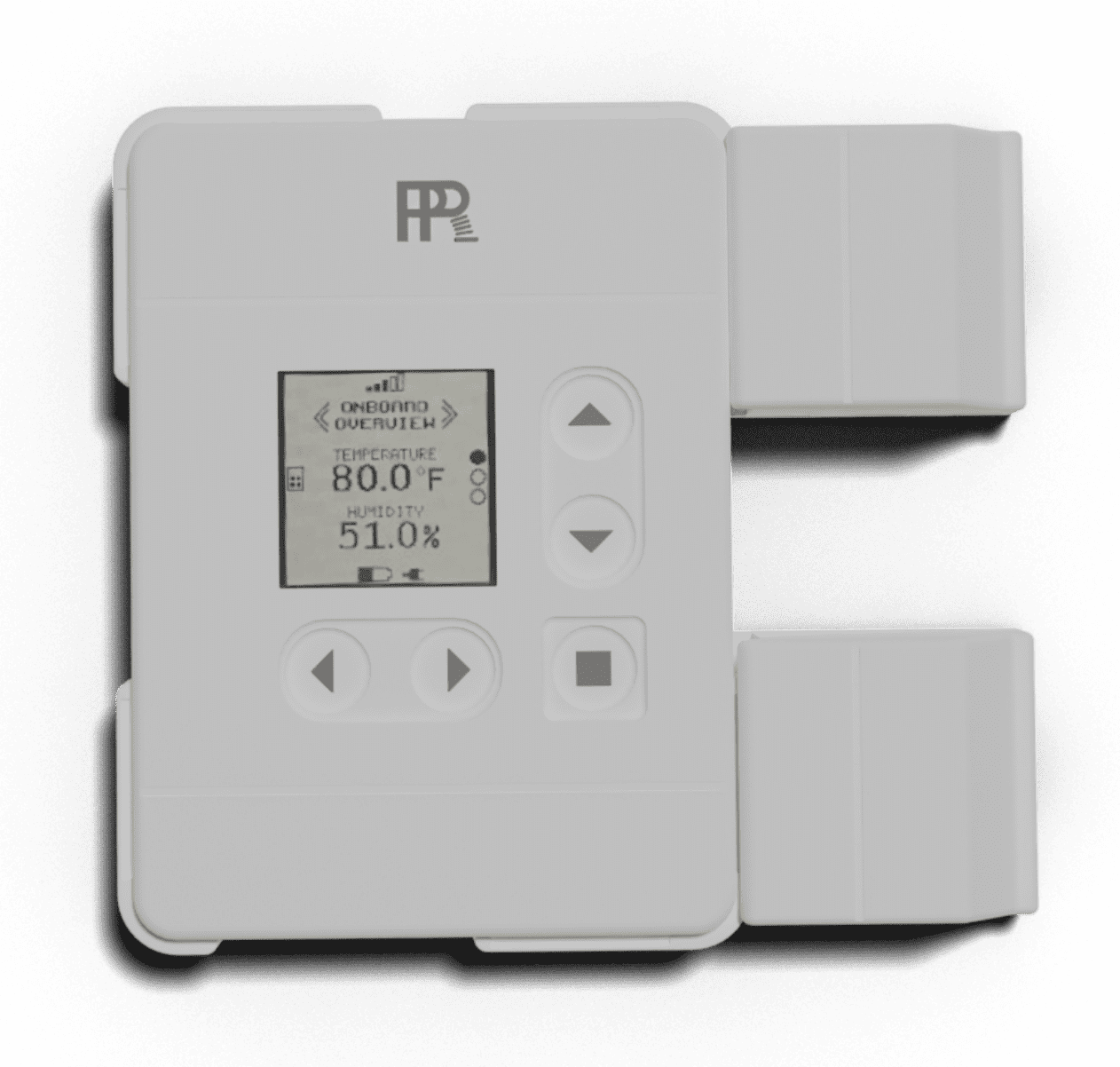 Wireless RTD temperature and Differential Pressure
Starting At: $408.00
RTD and DP expansion sensor module with built in temperature and humidity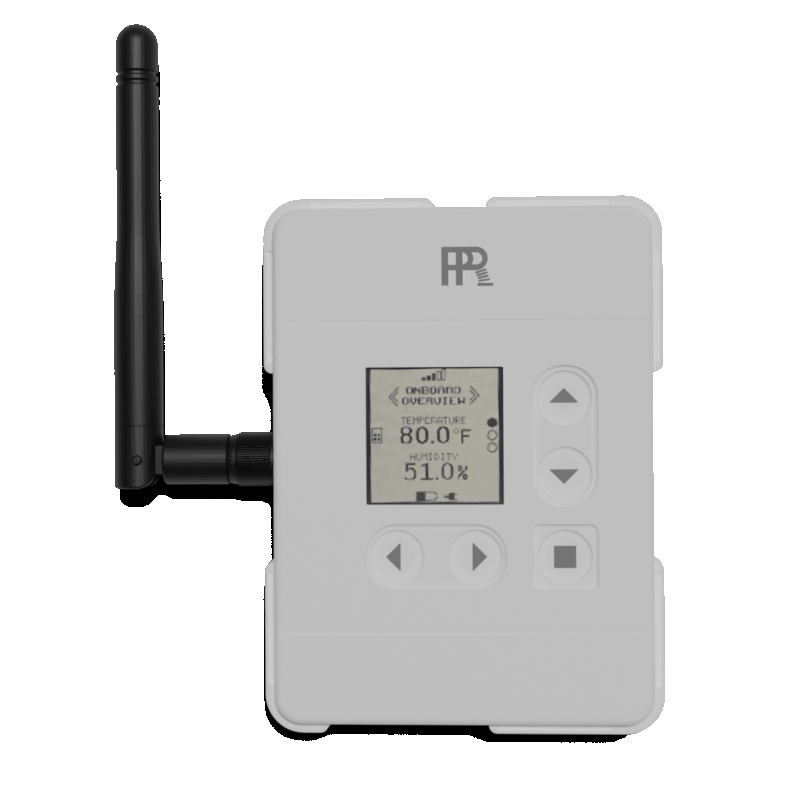 Wireless temperature system gateway
Starting At: $219.00
Wireless gateway w/ integrated temperature and humidity sensors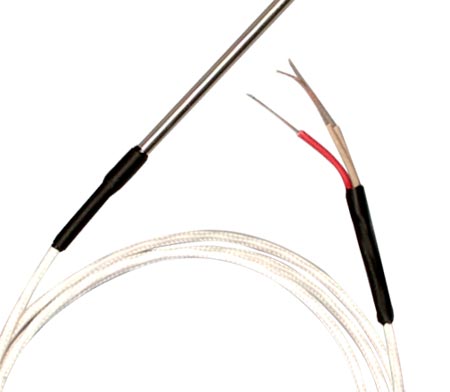 External sensors and expansion modules
Starting At: $49.00
Temperature probes, occupancy, differential pressure, particulate
Wireless Sensors for Vaccine/ Medical Supplies Monitoring
Complete line of wired and wireless sensors for cold storage, processing and production area, laboratory and research applications.
After initial setup and installation, the monitoring systems easily scales with additional sensors as your requirements expand.
Cooling and refrigeration systems
Our in situ temperature probes (thermocouples, RTDs, or thermistors) and systems are used in refrigeration applications. For refrigeration systems, our sensor devices with expansion ports and the DB37 RTD sensor and door switch modules with an external RTD temperature probe provide excellent accuracy within cooling temperature ranges. Although more cost-effective wireless thermistor probes are available, these have less accuracy, as cooling systems typically run at the edge of their measurement ranges.
Our wired and wireless monitoring systems eliminate costly product waste and spoilage with our remote alarms, featuring email or text notifications of refrigerator failure.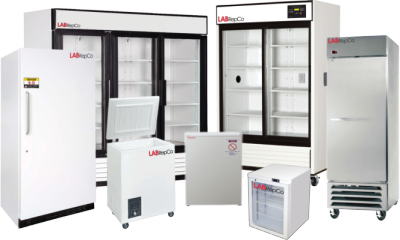 Incubators
Our Incubator CO2, Temperature and Humidity Module can monitor air inside an incubator, with the N device base device is located safely outside of the incubator box. The sensor communicates wirelessly at full range with the system gateway, keeping your technology and employees safe. Real-time and historical sensor data from the incubator can be used to ensure product quality and process efficiency.
Vaccine Storage Case Study - 21CFR Part 11
Eliminate costly waste and meet auditing requirements with wireless temperature monitoring systems.
Hospitals, pharmacies, clinics, and vaccine R&D production facilities are constantly facing the issue of vaccine and drug spoilage due to improper storage conditions or cooling system failures that go undetected.
View the complete Vaccine Storage Case Study .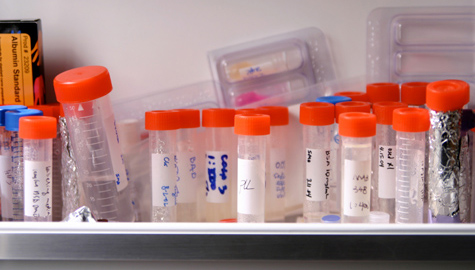 Ambient Monitoring
Laboratories, Clean Rooms, Storage Areas, Warehouses and Offices
Production and Clean Rooms
Maintain a suitable production environment across clean rooms, multiple zones, or laboratories with our wireless ambient sensors. Ensure adequate room conditions for producing quality products with the built-in alarm capability and live notification of extreme ambient conditions.
Monitor particulate with Dylos Particulate Counters measurements, coupled with the temperature and humidity device with serial input .
Our wireless differential pressure sensor device measures the pressure difference between two air spaces or rooms, so you can use the device to monitor positive pressure differential in clean rooms.
Storage and Warehouse Areas
Use our wireless temperature loggers and humidity sensors to maintain the optimal environment for storing raw materials, process chemicals, and packaging materials.
The wireless temperature and humidity sensor device can be placed in numerous storage locations and zones to monitor ambient conditions and ensure a optimal environment for materials storage.
Our system can fit applications in markets across the board. Eliminate product quality issues and potentially costly waste with a controlled and monitored storage area, or prevent supply loss from water, temperature, or light exposure in storage rooms for packaging, paper, and shipping materials.
Settings
Our system setup and configuration software automatically searches and locates your hardware devices, and assists you through the initial system claiming process. Users can choose to customize device names and organize their system by grouping hardware in folders (building location, process, zones, areas, etc.). Remotely access sensor data and modify system settings from anywhere by creating a Halocloud account, or upgrade to the Enterprise version of our software for advanced security, administrative privileges, and auditing features for multi-user systems and environments.
DataRecorder
DataRecorder allows you to view and manage all of your connected sensors and controls. You can display, log, chart, calibrate, and manage everything from a single,convenient interface. Set up alarms and email or text notifications for any sensor measurement with a Halocloud account to keep on top of everything in your facilities.
DataAnalyzer
DataAnalyzer is used to chart data from all of your connected sensors and controls. Powerful analysis tools are built-in, allowing you to post-process data for further analysis, and data can optionally be exported to a CSV file for import into a spreadsheet. Annotate any data point to note a system or process event for auditing purposes.
SmartThermostat
SmartThermostat allows you to set up and view your thermostat hardware by presenting your thermostat data in a neat, interactive dashboard interface. You can also use the software to control your thermostat from anywhere with our remotely-accessible interface.
SystemModeler
Use our SystemModeler software to model a geospatial 2D view of your location, which can be integrated with sensors and equipment. SystemModeler also gives you the option to create logical geographical layers for placement and management of your hardware devices, letting you optimize your facility's use of space.
SystemSchematic
Use our SystemSchematic software to create one-line diagrams of your electrical systems and processes, and fully integrate schematic equipment with floor plans built with our SystemModeler software.
Launchpad
Use our LaunchPad dashboard software to create custom dashboards of any sensor or control system, and integrate floor plans or SystemModeler drawings with interactive sensor displays.
MeterManager
Manage and analyze hundreds of meters through a single system. Our software features full measurement and verification (M&V) capabilities, allowing large-scale baseline development with M&V options B or C. Baseline adjustments for temperature and other user variables are supported, and long-term databasing and reporting is integrated with the entire Paragon Robotics software platform.
Sensor Logging and Dashboard Displays
Our configuration software and DataRecorder software are included at no charge with our data logging and monitoring systems.
Our software provides both local and cloud-based remote access to your system data and sensors on PCs and all mobile devices, including tablets, smartphones, and laptops.
Chart, log, and monitor all individual sensor data, or perform a quick check of real-time sensor measurements with our multi-view display. Access your system data, sensor measurements, and configuration from anywhere with our cloud service.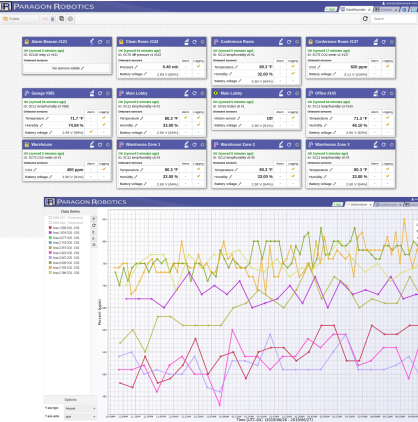 Individual system sensor alarms with immediate notifications
Text/SMS
Set text alerts up on your HVAC system for sensor alarms. Available through
HaloCloud.
Email
Set emails to be triggered on notification of a building sensor alarm condition. Available through
HaloCloud.
Browser alerts
Receive software alarm alerts locally on your computer right in your browser.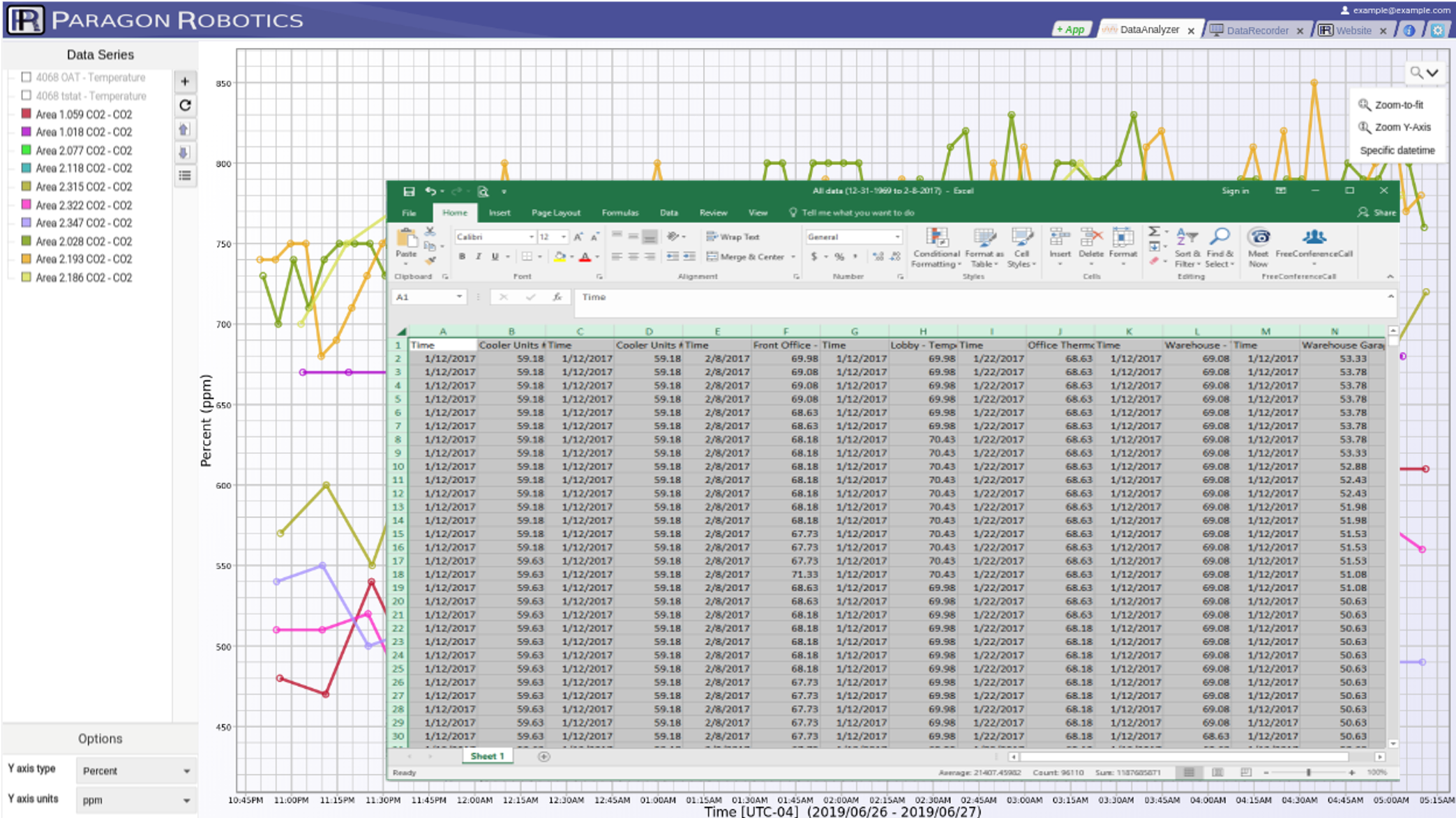 Export data, alarms, and annotations for audits
Use our DataRecorder and DataAnalyzer software to chart and export data for record keeping requirements.
Our software will record alarm events and notifications with date and time stamps. A custom annotation can be entered on any measurement data point or alarm condition for auditing histories.