Home
>
environmental-research
Environmental Research and Greenhouse Solutions
Remote sensors, Data Logging and Alarm Notifications
Paragon Robotics wireless logging and remote sensors are cost effective solutions to collect all of your environmental research data and/or to handle greenhouse monitoring requirements.
Monitor and log application measurement parameters with our line of sensors or any instrumentation or meters with measurement output (voltage, current or pulse).
Paragon Robotics environmental data logging systems provide a complete system with cloud based capabilities of alarm notifications and remote access. Check your system and sensor data from anywhere through an internet connection. Our product line includes networked sensor solutions and standalone USB and Ethernet data loggers to best meet your applications requirements.
Reliable Remote Monitoring Solutions
Ambient temperature and humidity measurements in multiple areas
Alarm programmability and custom notifications
Remote access to Environmental Research/ Studies data in real time
Create optimum growing conditions for plants and avoid greenhouse/ nursery product loss
Air filtration, heating and cooling system monitoring
Battery operated sensors for flexible and simple installation
Custom Dashboard and Analysis Software
Featured Products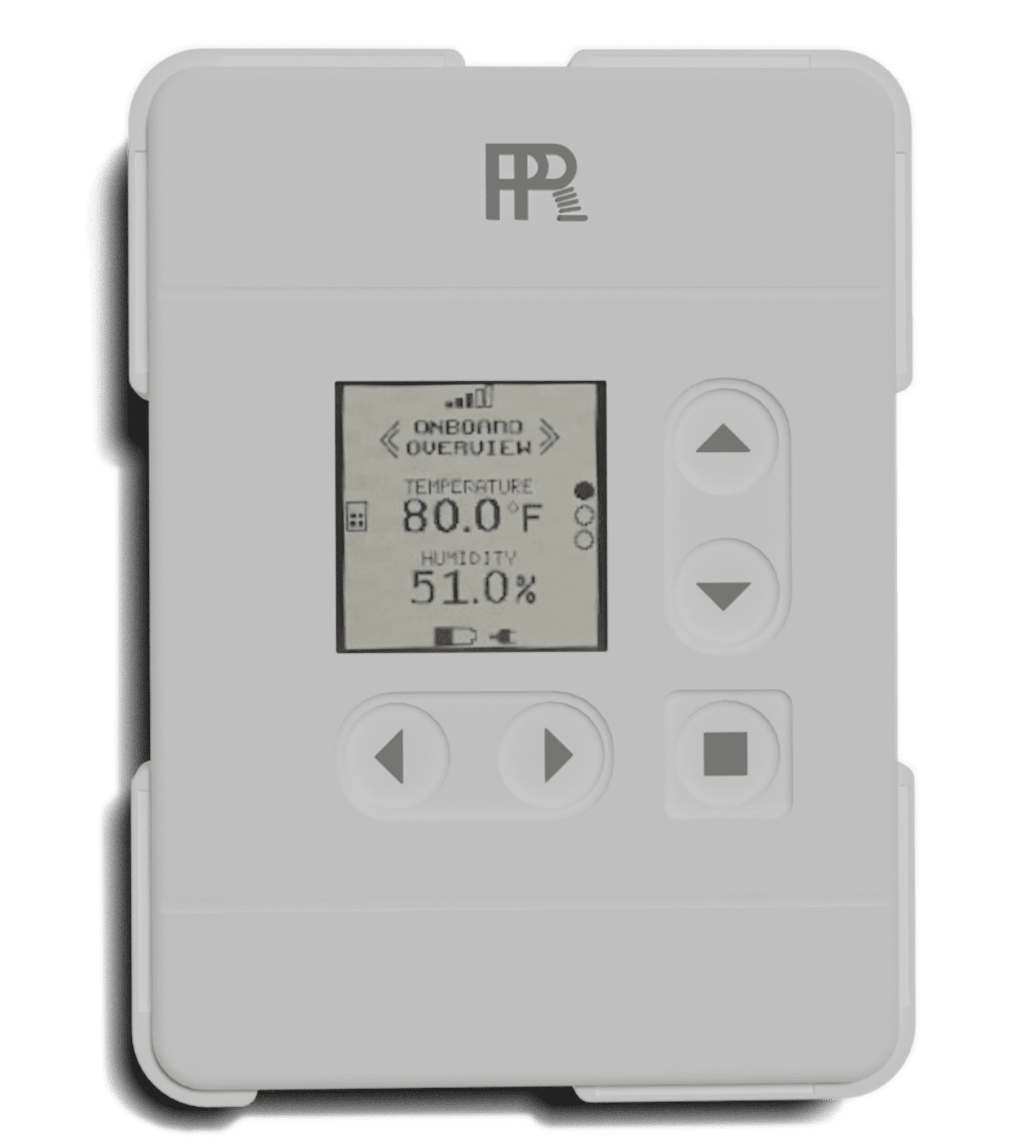 Wireless temperature and humidity data logger
Starting At: $179.00
Wireless connection to system gateway Expansion ports for additional measurements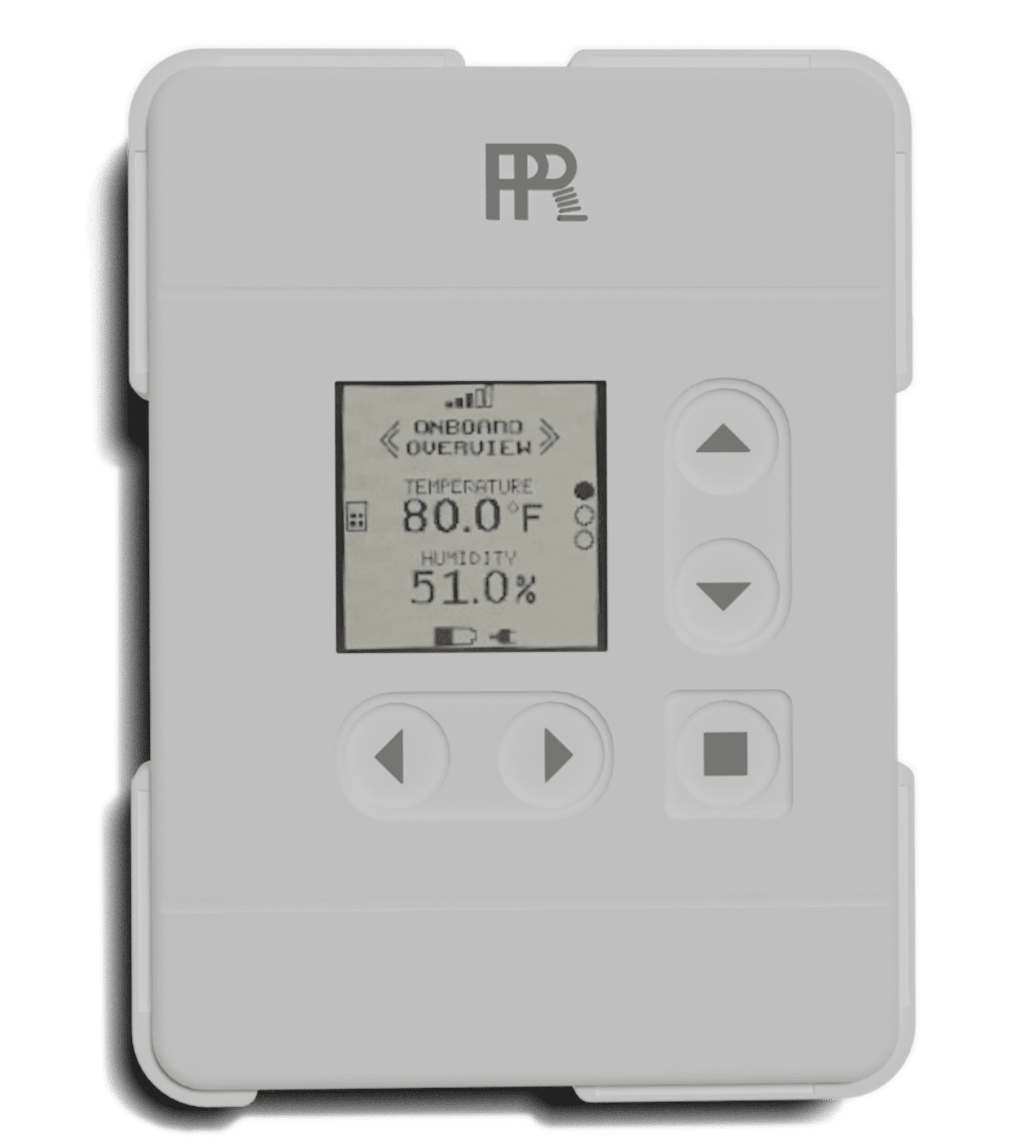 USB temperature and humidity data logger
Starting At: $139.00
USB interface and data storage Expansion ports for additional measurements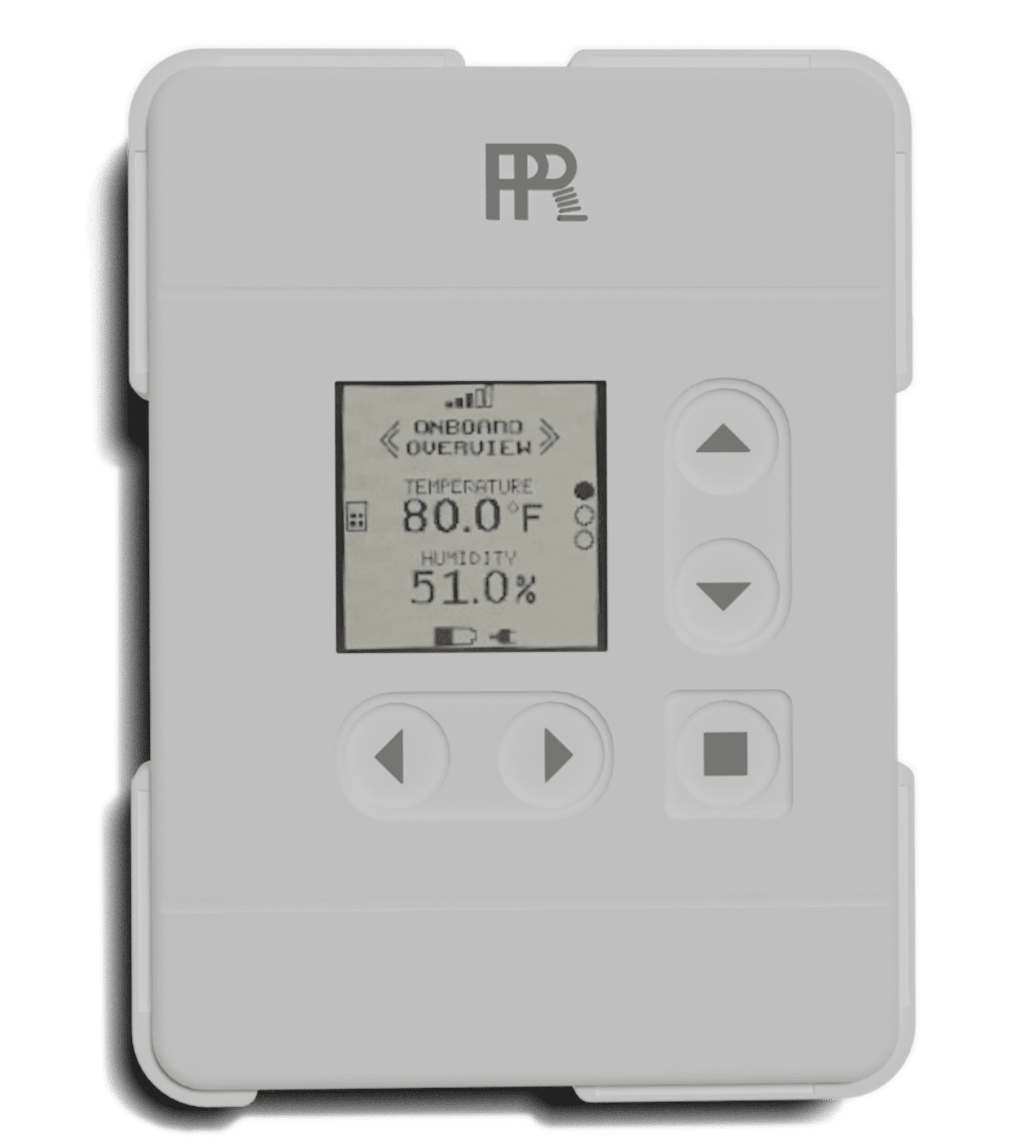 Ethernet/wireless temperature & humidity
Starting At: $248.00
Wired and wireless network connectivity. Expandable.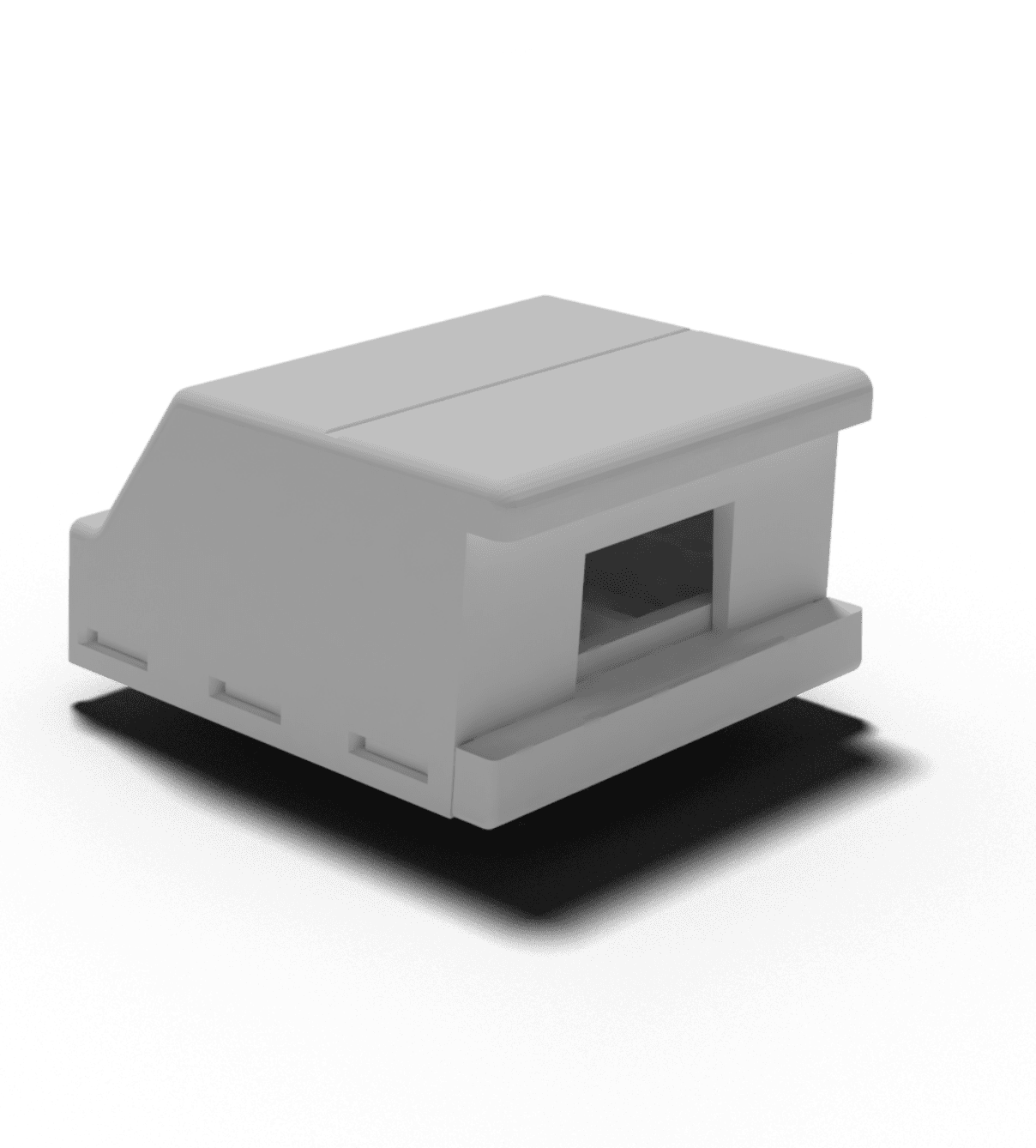 Power expansion module w/ CT Clamps
Starting At: $78.00
Monitor power with expansion module inputs for three CT clamps.
Wireless RTD data logger
Starting At: $208.00
Built in temperature and humidity with RTD probe expansion module
Wireless CO2 data logger
Starting At: $408.00
CO2 expansion sensor module with built in temperature and humidity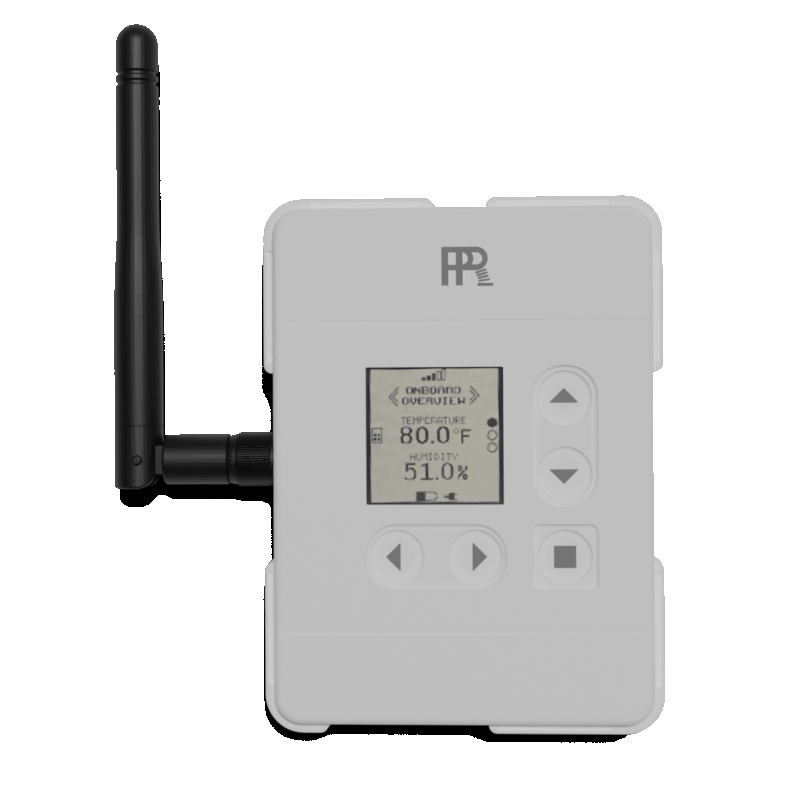 Wireless system gateway
Starting At: $219.00
Wireless sensors w/ integrated temperature and humidity sensors
External sensors
Starting At: $119.00
CT clamps, temperature probes, particulate, flowmeters
Environmental Research and Greenhouse Data Loggers and Sensors
Offering a complete line of sensors for environmental conditions and greenhouse monitoring, our product line includes a wide range of measurements with remote sensors.
Eliminate product quality issues and potential costly waste with a controlled and monitored storage area for temperature and humidity. Additional monitoring in storage areas with raw materials, packaging, paper and shipping materials to prevent supply loss due to water, temperature or light exposure.
Monitor remote sites for unexpected visitors and/or add occupancy controlled lighting and HVAC systems.
After initial setup and installation, the monitoring systems easily scales with additional sensors as your requirements expand.
Greenhouse and Climate Monitoring
Monitor and log environmental conditions with Paragon Robotics wireless data logging systems with remote wireless sensors for temperature, humidity, light, solar and moisture. Paragon's wireless temperature & humidity sensor device and DB13 Light Sensor Module are commonly used in plant growing applications.
Remote alarm features with email or text notification of heating/ cooling failure. The wireless temperature & humidity sensor device alarms can be set to insure immediate notification of when conditions are not suitable for plants and provide immediate notification to address the system issues.
Ecological Studies
Research and monitor habitat conditions with our broad array of built in remote wireless sensors or compatibility with any instrument or transmitter with voltage/current output on the market. Utilize external sensors for moisture content and water level analysis, rainfall levels, dissolved oxygen and many others with our base monitoring device with DB18 external sensor connected to your instrumentation.
Agriculture Research
Perform agriculture research with Paragon Robotics wireless data logging systems with remote wireless sensors for temperature, humidity, solar, moisture concentration and quality. Utilize external sensors for soil moisture content analysis, rainfall levels, wind speed, ambient pressure and many others with our base monitoring device with DB18 external sensor for VDC and mA inputs.
Greenhouse Case Study
Maintain optimum growing conditions and eliminate plant and crop loss in Greenhouses.
Greenhouses provide great protection from adverse weather conditions and optimal growth potential for plants. But variances in outside factors can have a significant impact on the Greenhouse environment and negatively effect the plants.
View complete Greenhouse Case Study.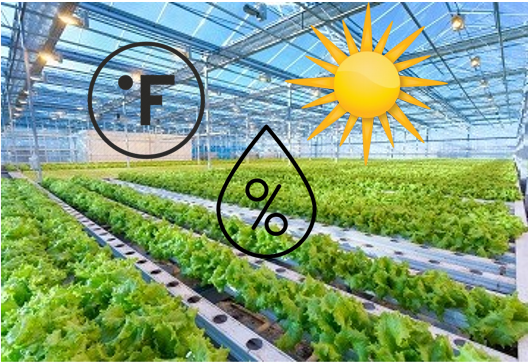 DataRecorder
DataRecorder lets you view and manage all your connected sensors and controls. You can calibrate, log, chart, and manage everything right from a single interface.
Settings
Our system setup/configuration software automatically searches and locates your hardware devices and assists you through the initial system claiming process. Users can choose to customize device names and organize their system by grouping hardware in folders (building location, process, zones, areas, ect). Remotely access sensor data and modify system settings from anywhere by creating a Halocloud account. Upgrade to the Enterprise version of our software for advanced security, administrative privileges and auditing features for multi-user systems and environments.
DataAnalyzer
DataAnalyzer is used to chart data from all your connected sensors and controls. Powerful analysis tools are also built-in, allowing you to post-process data to analyze it further. Data can optionally be exported to a CSV file to import into a spreadsheet.
SmartThermostat
SmartThermostat allows you to setup and view your thermostat hardware. It presents your thermostat info in an interactive dashboard interface. You can also use the software to control it through a remotely accessable interface.
Launchpad
Use our LaunchPad dashboard software to create custom dashboards of any sensor and control system. Integrate building floorplans and SystemModeler drawings with interactive sensor displays.
MeterManager
Manage and analyze hundreds of meters through a single system. Full measurement and verification (M&V) capabilities are provided, allowing large-scale baseline development with M&V options B or C. Baseline adjustments for temperature and other user variables are supported, and long-term databasing and reporting is integrated with the entire Paragon Robotics software platform.
Sensor Logging and Dashboard Displays
Our configuration software and DataRecorder software are included at no charge with our data logging and monitoring systems.
Our software provides both local or cloud based remote access to your system data and sensors on PCs and all mobile devices – tablets, smart phones and laptops.
Chart, log and monitor all individual sensor data or perform a quick check of real time sensor measurements with our multi-view display. Remote access to system data, sensor measurements and configuration from anywhere with our cloud service.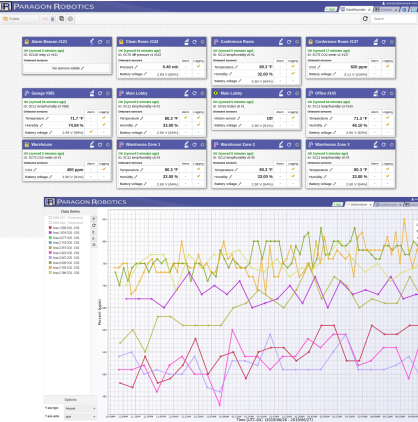 Building sensor alarms with immediate notifications
Text/SMS
Set text alerts up on your HVAC system for sensor alarms. Available through
HaloCloud.
Email
Set emails to be triggered on notification of a building sensor alarm condition. Available through
HaloCloud.
Browser alerts
Receive software alarm alerts locally on your computer right in your browser.