Home
>
weight-based-inventory
Weight-based inventory systems
Periodic Automatic Replenishment (PAR) inventory automation
Weight-based inventory system
The platform uses two types of weight-based scale products to measure inventory part weights, including both a "hanging" style as well as a "shelf" style model. The devices calculate the change in inventory for each bin, display the update on the front-mounted LCD interface, and relay the change to a cloud-based server for further processing.
Users access the software through a web-based interface using any available web-enabled device (including mobile). The powerful software suite provides a large array of application modules to provide a full-featured inventory management system capable of meeting the solicitation requirements.
The server is also integrated with customer HL7 systems such as VISTA/IFCAP to provide two-way messaging for exchange of order, inventory, and other key system information about the system.
System features
"Hanging" style scale models, where the scale is mounted on a hanging bracket attached to a louver panel on a wall or rack
"Shelf" style model, where the scale device rests on a shelf with optional shelf liner
ItemMaster software for managing all item master information
Inventory software is used for all inventory management operations
Purchasing module to integrate ordering, invoices, and real-time inventory levels
Many other available applications for advanced functionality such as reports, dashboards, building maps, and more
Industry-leading hardware usability
Each device has a full graphic LCD display on the front to display current stock level, minimum safety stock policies, product type, or any other user-defined field. A comprehensive interface is built in to each device, allowing a range of operations to be performed directly at the hardware.
Optional wireless capability is available on all scales, allowing for next-generation mobile storage system integration. One mobile cart can seamlessly track real-time inventory levels as it's moved around even large campuses.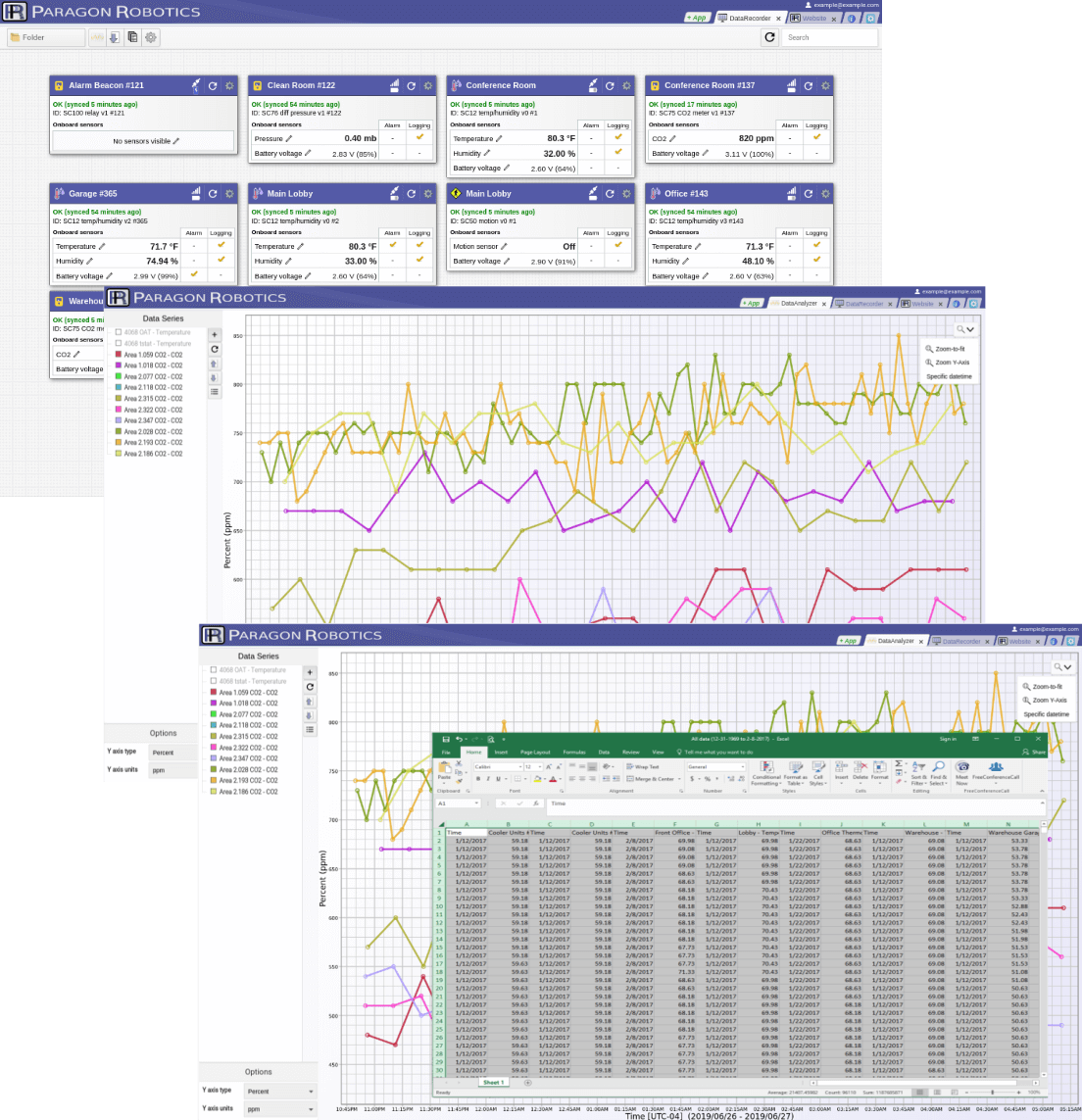 Enterprise software to meet compliance reporting and auditing requirements
Our Enterprise software provides a multi-user environment with administrative privileges and user auditing features to meet individual system users' compliance. Paragon's data logging and analysis software suite provides real-time measurement dashboards, data analysis charting, automated and custom period reports, measurement data, and alarm history with custom annotations for regulatory audit requirements.
Our software offers both local and cloud-based remote access to your system data and sensors on PCs and mobile devices, including tablets, smartphones, and laptops.
Chart, log, and monitor all individual sensor data, or perform a quick check of real-time sensor measurements with our multi-view display. Remote access to system data, sensor measurements, and configuration from anywhere with our cloud service.
24/7 Monitoring
With 24/7 cloud-based monitoring capabilities, system performance and monitoring can be performed by any authorized party. Paragon provides full turnkey service level agreements if needed by customers.
Safe and Secure
Access you system with the peace of mind of the highest level of cloud-based security. Our platform is used extensively with the US Federal government, and meets the stringent requirements of many major agencies. All software is 21-CFR and Section 508 compliant.