Home
>
New investment in electronic manufacturing capabilities and ISO/AS quality assurance program
Electronics Contract Manufacturing Services
Circuit board production with unmatched quality assurance standards
On Time Full Service Electronics Manufacturing Partner
Paragon Robotics offers a variety of manufacturing services backed by an experienced production team with processes driven by ISO standards . Our manufacturing customers can rely on our commitment to stringent quality requirements and ISO 9001/ AS 9100 programs to insure their products integrity. Every production project, batch, and board adheres to our quality management programs from small quantity prototypes to larger volume production runs.
Our capabilities include surface mount and through hole PCB assembly , test and inspection services , wiring harness/system assemblies, product labeling and packaging with custom shipping options.
In addition to our core quality management program, Paragon Robotics strives to provide continual communication with our customers on their project's status and progress from start to finish. Our account management team is available and willing to assist with any questions during your builds. Our mission is to develop strong, lasting partnerships with our customers, while meeting all of their products manufacturing and testing quality needs.
Please contact our manufacturing services group for additional information and quotations on your project at 800.893.9639 .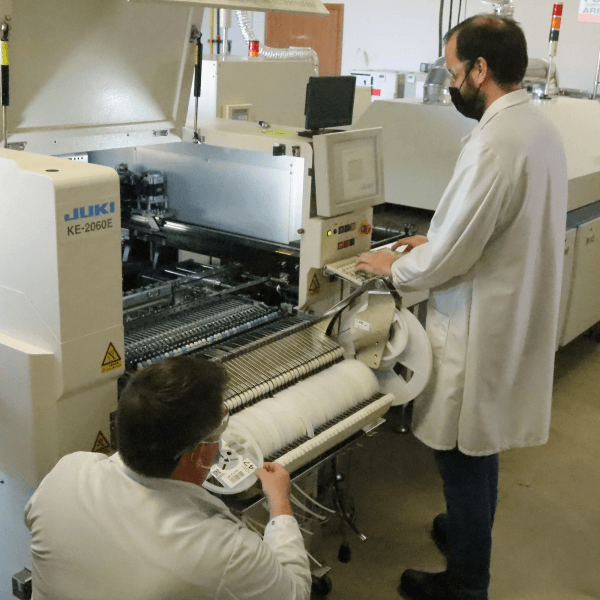 Electronics Contract Manufacturing Capabilities
Our team of skilled SMT and production technicians utilize state of the art equipment to produce high quality electronics. We specialize in custom low/ mid volume production runs and small quantity prototypes. As your requirements grow into higher volume, our systems have the capacity and capability to grow with you.
Our experienced production technicians attention to detail in build quality, inspection and testing procedures on each individual project set us apart as a reliable partner. We utilize high powered digital microscopes for individual visual inspections and offer in house functionality testing services.
Paragon Robotics is committed to a continuously evolving and improving quality system backed by proven quality assurance procedures and best electronic manufacturing practices. Our entire team strives to go above and beyond our customer's expectations to meet time line and quality requirements to earn your trust as a valued manufacturing partner.