What's New
Contact:
Kevin Kline
press@paragonrobotics.com
1.800.893.9639
FOR IMMEDIATE RELEASE
Paragon Robotics expands distribution channel for product line of wireless data logging systems and remote sensors with CTH Controls in Canada.
Cleveland, OH - July 3, 2014 - Paragon Robotics, a manufacturer of next generation wireless data acquisition and logging products for energy, environmental and industrial markets, announces the addition of CTH Controls based in Ontario, Canada to their network of distribution partners in Canada. CTH Controls will supply and promote Paragons wireless products and remote sensors throughout Canada. CTH Controls continues to be a leading supplier of industrial instrumentation and sensors through their sales partners after 40 years of excellent customer service and support.
"CTH Controls adds top notch technical and application support capabilities to our sales channel in Canada. We are excited about the opportunity to work with CTH and their network of sales partners in further developing Paragon's product sales and installations." stated Julian Lamb, Paragon Robotics President. "Their knowledge of wireless data systems and broad range of sensors will be an asset. With the addition of CTH Controls and all of their field experience, our customers could not ask for a better solution provider to handle their data logging and acquisition needs."
Paragon Robotics plans to continue expanding its sales network of qualified and knowledgeable channel partners in the US and Canada to provide their customers the highest level of sales service and support in their markets.

About Paragon Robotics :
Paragon Robotics data logging systems provide unprecedented cost savings in remotely monitoring sensor data in energy management, building/facilities auditing, environmental testing and a broad range of industrial applications. Systems consist of an Ethernet-attached Gateway communicating with remote wireless sensors with a broad range of available built-in and external sensor measurement capabilities. Configuration, data recording and logging software and integration tools for 3rd party software dashboards and analytics are provided at no additional costs. Paragon's HaloCloud cloud service is available for remote access to real time sensor data and alarm capabilities with notification via email or SMS text from anywhere.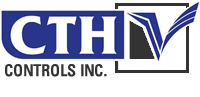 About CTH Controls
CTH Controls Inc. is a leading supplier of Industrial Control instrumentation since 1973 providing:
Applications and solutions to the process and manufacturing industries, located throughout Ontario.
A wide range of high tech products, from field instrumentation to MMI's.
Specializing in process weight control systems that interface with PLC's
Products range from: signal conditioners, indicators, industrial computers and monitors, pressure transmitters, weighing systems, load cells, vibration monitors, and power monitoring systems, graphic recorders and wireless data loggers.
A distributor for the process measurement market, CTH offers over 65 years of combined application and technical support to customers as a partner to clients providing unparalleled products and support both before and after the sale, building long term relationships based on integrity and service.
CTH services major markets including:
Primary process industries including Steel, Power, Pulp & Paper, Hydro and Nuclear.
Consultants, municipalities and industries with Instrumentation applications.
Facilities and building energy management
Food & Beverage, Aerospace, Pharmaceutical and Plastics.
CTH Controls Inc.
6-1500 Upper Middle Rd. W. Suite 220
Oakville, ON, Canada, L6M 0C2
Website: www.cthcontrols.com
Email: sales@cthcontrols.com