---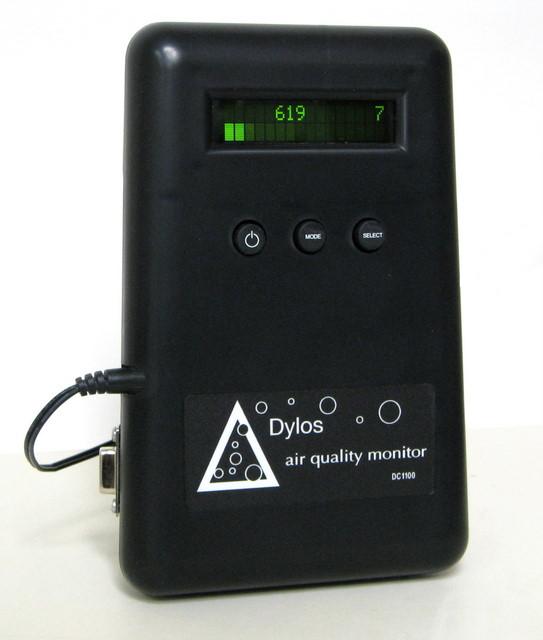 –
+
Add to Cart
Estimated ship date: Please contact us
Description
Specifications
Description
The Model DC1100-PRO-PC Air Quality Monitor is a cost effective instrument for measuring particulate of indoor air. The room monitoring DC1100-PRO-PC is wall mounted and connects directly to our Wireless sensor device with DB80 RS-232 serial input module in our wireless logging and monitoring systems. An optional custom RS-232 cable is available to simplify connecting the DC1100 with the DB80.
A true particle counter with 2 size ranges - small (bacteria, mold, etc) large (pollen, etc.). This particulate monitor has a local display of the indoor air quality with an LCD screen providing small and large particle counts with a dynamic bar graph showing actual count reading. The DC1100-PRO-PC has all the features higher sensitivity - detecting particles down to 0.5 micron. The large particle size range is calibrated to 2.5 microns and above.
DC1100 Air Quality Monitor is the first monitor on the market that has been developed and tested for consumer use. Up until now, the only particulate air quality monitors available for purchase were the extremely high priced units for hospitals, laboratories and clean room facilities. The DC1100 was designed to meet application needs of the office and laboratories environment at an affordable price.
Specifications
| | |
| --- | --- |
| Range | Small Particulate- Down to 0.5 micron, Large Particulate- 2.5 microns and up |
| Accuracy | 0.5 micron |
| Stability | less then 1% of FS over the life of the sensor |
| Measurement output | RS-232 via DB9 |
| Cable | CST-RS232- 2ft RS-232 cable |
| Operating Temperature | 0 to 50C (32 to 122F) |
| Mounting kit | Wall mounting |
| Compatable devices | SC80, Optional CST-RS232- 2ft RS-232 cable |
| Calibration | Sensors will be calibrated at zero and span at the factory. Calibration in the field will not be required. |
| Power Requirements | AC/DC Power supply included for DC1100 |
| Warranty | One (1) year parts and service |