FOR IMMEDIATE RELEASE
Paragon Robotics expands business to include contract manufacturing and engineering design services with recent ISO 9001:2015 and AS 9100:2016 certifications.
Twinsburg, OH - December 12, 2022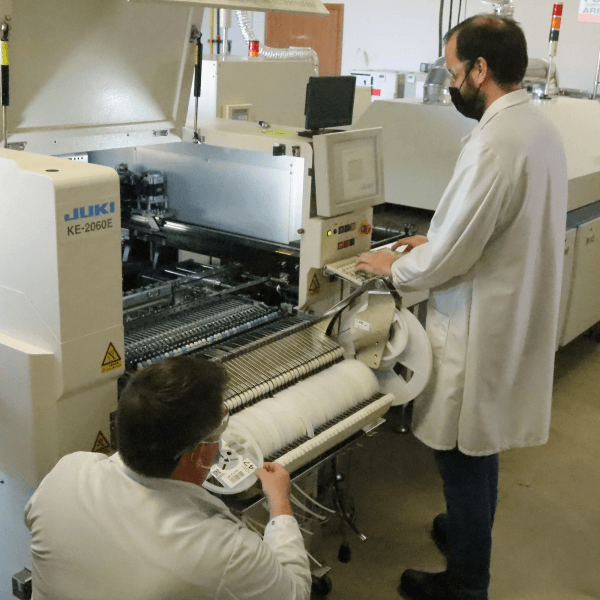 Electronics manufacturing advanced SMT capabilities
Based in Twinsburg, OH, Paragon Robotics is a US Manufacturer that can provide unique manufacturing and engineering outsourcing solutions. In addition to our core quality management program with ISO 9001 and AS 9100 certifications, Paragon Robotics prides itself on continual communication with our customers on their project's status and progress from start to finish. Our account management team is available to assist with any questions through engineering reviews and during production builds. Our mission is to develop strong, lasting partnerships with our customers, while meeting all of their products manufacturing and testing quality needs.
Regular collection and review of customer feedback
Strict preventative and corrective action procedures
Continuous ISO/ quality training and development of employees
Regular quality audits of our internal processes
Management review of audit results, and feedback from customers
Measurable quality objectives which reflect business and partnership goals
Transparent pricing policies and full BOM pricing breakout included with formal quotations
Selection and performance monitoring of our entire supply chain partners
Supply chain management with manufacturing engineering support for alternative components to accelerate production schedules
Automated BOM quoting and purchasing system with multiple suppliers to expedite component/ parts pricing and formal project quotations
Paragon can provide full electronics manufacturing capability for all types of PCB requirements, ranging from surface mount to thru-hole flexible placement capabilities. Paragon provides full testing and inspection capabilities, as well as extensive engineering capability for designing dedicated testers and testing adapters for most types of boards. Backed by an experienced production team in both commercial and aerospace/defense product design and manufacturing, all of our processes are driven by ISO standards, and our customers can rely on our commitment to stringent quality requirements and ISO 9001/ AS 9100 programs.
Every production project, lot, and printed circuit board assembly adheres to rigorous quality management processes, and we have a proven track record of being "best value" for small quantity prototypes up through larger volume production runs.
IPC and J-STD trained manufacture engineering staff, SMT operators and skilled production technicians
Engineering and software developers available for testing procedures or fixtures
Ring light 2.25x / 5x magnification, Microscope 10x min magnification, Digital Oscilloscopes and Fluke multi-meters for troubleshooting
Trained visual inspections throughout build process
Administer customer supplied functionality tests
NIST certified calibration devices
Temperature and humidity environmental test chambers
For more information on Paragon Robotics, as well as how they can work for your business, visit paragonrobotics.com for details on data systems, engineering services and electronics manufacturing capabilities, or contact our manufacturing services group for additional information and/or custom quotations based on your project requirements at 800.893.9639.