Home
>
remote-sensor-thermostats
Intelligent Thermostats with Remote Sensors
Powerful. Intelligent. Flexible.
Intelligent Thermostats with Remote Sensors Overview
Our wireless intelligent thermostats work seamlessly with our wireless remote sensors, providing additional measurements from temperature and humidity sensors to motion, occupancy, and power monitoring sensors. The addition of remote sensors to the thermostat network provides a powerful advanced control capability for energy efficiency, lighting, appliances, and comfort systems. Our advanced architecture allows you to use any mobile device or PC to interact with your thermostats remotely, from anywhere in the world.
Our control architecture allows unprecedented flexibility and intelligence, letting you customize your thermostat control for your application with any number of our wireless remote sensors. From simply using an additional temperature sensor, to replace your thermostat reading, to implementing advanced control algorithms like using wireless remote temperature sensors in bedrooms to take over control during night hours, our system provides the most powerful and flexible thermostat control experience available.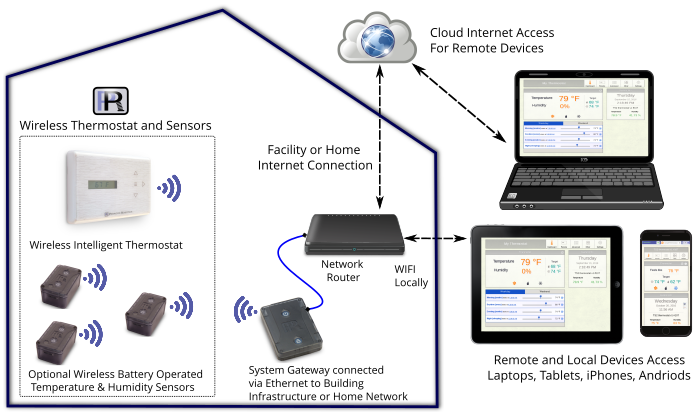 Intelligent Thermostats with Remote Sensors Features:
Wireless programmable energy efficiency and schedule settings.
Expandable with remote sensors for a broad array of measurements.
Additional wireless controls available for lighting, process, and system management.
Flexible target temperature sensor, multiple-room temperature averaging or blending, and humidity compensation calculations.
Remotely control thermostats and sensors with your Android, iPhone, or tablet from anywhere.
Data logging capability of thermostat and remote sensors measurements.
SmartThermostat and DataRecorder software included.
Thermostats with Remote Sensors Hardware Devices
Expand with available remote sensors
Add extra temperature, humidity, or motion remote sensors to your system for even more powerful control and energy savings. Our entire sensor product line will plug-and-play with any of our default remote control thermostat setups.
In addition to a complete line of wireless temperature sensors, our product line includes a wide range of additional wireless sensors that can expand the wireless temperature monitoring system. The system is also compatible with any external sensors or existing instrumentation with VDC or mA outputs.
Commercial, Office and Warehouse Custom Features
Our wireless intelligent thermostat with remote sensor includes many commercial features engineered for property owners, office complexes, warehouses, and storage facilities.
Customized office schedule for optimal HVAC and occupancy comfort during office hours.
Special thermostat lock mode to lock or limit temperature adjustments on-site at the thermostat.
Programmable schedules for shifts, weekdays, weekends and holidays.
Expandable with additional remote sensors to optimize building energy efficiency.
Double encryption security keeps your data completely private.
Remote sensor measurement data logging for history and auditing records
Alarm notifications via email and text message of critical conditions.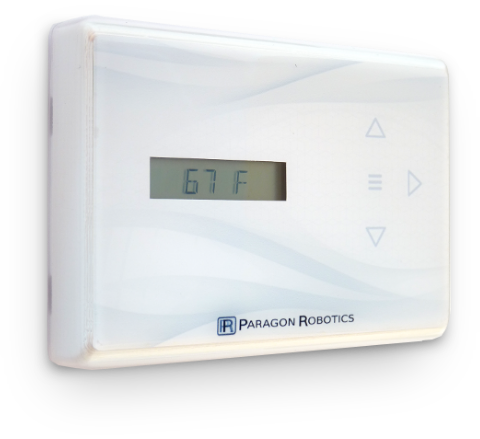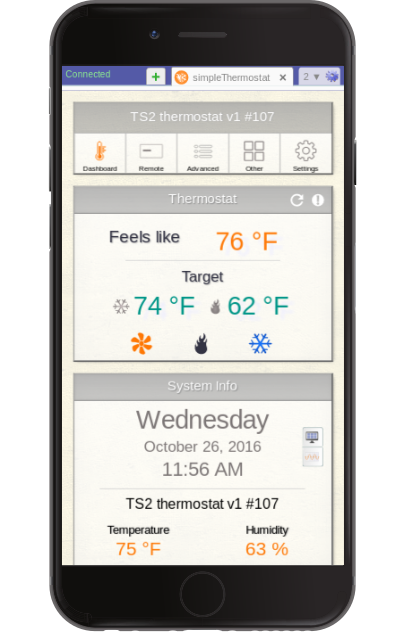 Wireless access from iPhones, Androids and Tablets
With wireless connectivity to your remote thermostats and optional sensors or external sensors, you have full control from any smartphone and/or mobile device. Our remote control SmartThermostat and DataRecorder software applications will work with:
iPhones
Android smartphones
Tablets
PCs and laptops
Browser-based devices with Wi-Fi, cellular or Ethernet connections to the internet or local network
Our browser-based SmartThermostat and DataRecorder software applications automatically adjust screen size to perfectly fit any type of device and runs on any operating system. Use any popular browser like Chrome, Firefox, Edge, or Safari. Simple, straightforward navigation and thermostat programming tools enhance the user interface experience. View measurements from all system remote sensors quickly, and even graph logged thermostat and sensor data on any device.
Our intelligent thermostats with remote sensors system is accessible at any time with any device to make schedule changes, improve efficiency settings, and view HVAC operating modes. From the touch of your smartphone, remotely adjust heating or cooling comfort settings, or fan operation at the office, warehouse, storage facility, or home.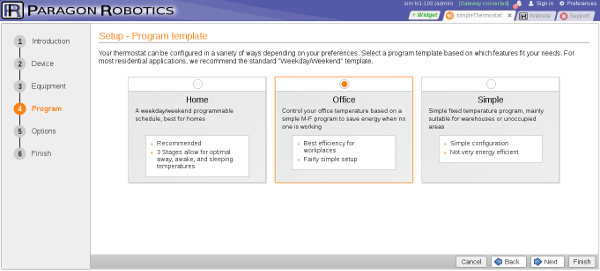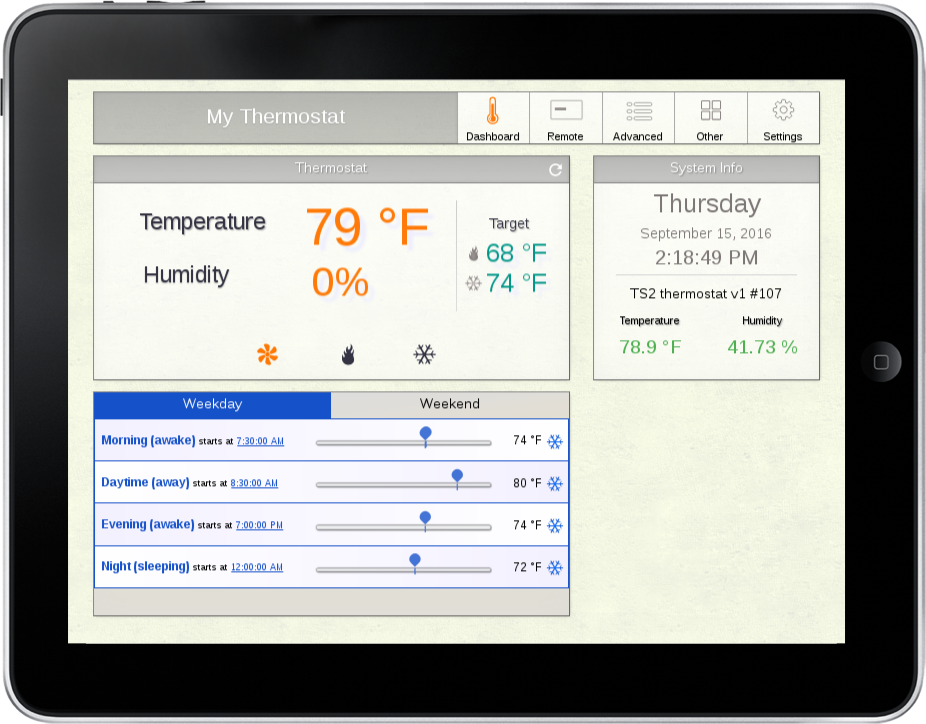 Easy user and dashboard interface
Quickly set up and customize your wireless temperature monitoring system using an intuitive dashboard interface with the SmartThermostat and DataRecorder software widgets.
Display "Feels like" temperature with humidity compensation and comfort settings for cooling and heating.
Indicators for cooling, heating, and fan modes.
Easy-to-use schedule programming sliders for weekdays and weekends.
Custom schedule programs and efficiency settings for office, vacation, summer, winter.
Updating quick view with date and remote sensor measurements.
Fast access to DataRecorder dashboard for remote sensor logging and charting.
Program alarm notifications via email and text message.
Create sensor alarms and receive immediate notifications
Text/SMS
Set text alerts up on your system for sensor alarms. Available through
HaloCloud.
Email
Set emails to be triggered on notification of a sensor alarm condition. Available through
HaloCloud.
Browser alerts
Receive alarm alerts locally on your computer right in your browser.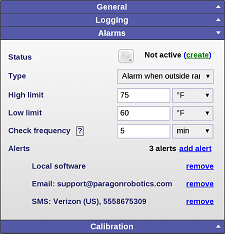 Email, Text Message, or Local Alarms
Simple configuration of temperature or any remote sensor alarm set points and conditions with notifications by email or text message. Fast programming of multiple alarms and notifications for all individual wireless temperature and system remote sensors. Each individual remote sensor checks for the alarm condition at a programmable check frequency on the hardware. Customize alarm notification messages and store time stamped alarm annotations for auditing or reporting requirements.
Free Cloud Access
Our HaloCloud service can be used to have full access to your wireless temperature monitoring system anywhere in the world. For systems with less then seven (7) wireless Model SC sensors, our cloud service is included free with system purchase. Our unique double encryption security keeps your data completely private.