Home
>
temperature-monitoring
Wireless temperature monitoring
Sensors and controls
Our wireless temperature monitoring systems provide unmatched functionality, flexibility, and value for any application. Our systems provide industry-leading monitoring features, while also seamlessly incorporating advanced wireless temperature logging and control capability on the same wireless system.
With a 5-10 year battery life on all wireless sensors, you can quickly install your temperature monitoring system and start it running hassle-free for a decade.
Ambient temperature with built-in sensor
For applications requiring ambient temperature monitoring, the battery operated Model SC11 wireless temperature sensor with built-in thermistor can be easily integrated and placed anywhere in the facility. For temperature and humidity monitoring requirements, the Model SC12 wireless temperature and humidity sensor includes an additional built-in humidity sensor. Both sensors can be used to maintain occupant comfort, HVAC performance or suitable conditions for product storage in office buildings, warehouses, hospitals, greenhouses, museums and other facilities.
Wireless temperature with external temperature probes
For temperature monitoring in freezer, refrigeration, oven and furnace environments, Paragon offers wireless sensors compatible with external temperature probes utilizing thermocouples, RTD's or thermistors for in-situ measurements. With a ruggedized temperature probe placed in the harsh environment, our wireless temperature transmitters are located safely outside the freezer/cooler/oven/furnace and able to communicate longer distances to the system gateway(s).
Depending upon your application and temperature ranges, an external temperature probe can be selected to meet your accuracy and construction material requirements. Our external temperature probe systems are compatible with any off the shelf thermocouples, thermistors or RTDs. For hospitals and laboratories, Paragon offers specialty probes with glycol buffer kits to slow temperature response times and eliminate false alarms in vaccine freezer and refrigeration applications.
We offer the industry's largest range of wireless temperature sensors, allowing measurement of any temperature from -200°C to +1700°C. The popular SC12 wireless temperature sensor provides ambient temperature and humidity readings, while our RTD, thermocouple, and thermistor models use temperature probes to measure temperatures of any liquid, gas, or surface temperature application.
| Probe | Device | Minimum | Maximum | Accuracy |
| --- | --- | --- | --- | --- |
| Ambient | SC12 | -40°C | +85°C | ±0.5°C |
| 10k thermistor | SC31 | -40°C | +105°C | ±0.5°C |
| Type-T thermocouple | SC32 | -185°C | +300°C | ±0.3°C + 0.3% |
| Pt100 RTD | SC33 | -200°C | +500°C | ±0.1°C |
| Type-J thermocouple | SC32 | 0°C | +750°C | ±0.3°C + 0.3% |
| Type-E thermocouple | SC32 | 0°C | +800°C | ±0.3°C + 0.3% |
| Type-K thermocouple | SC32 | 0°C | +1000°C | ±0.3°C + 0.3% |
| Type-N thermocouple | SC32 | 0°C | +1100°C | ±0.3°C + 0.3% |
| Type-R thermocouple | SC32 | 0°C | +1600°C | ±0.3°C + 0.3% |
| Type-S thermocouple | SC32 | 0°C | +1600°C | ±0.3°C + 0.3% |
| Type-B thermocouple | SC32 | +200°C | +1700°C | ±0.3°C + 0.3% |
Simple dashboard interface
Quickly setup and customize your wireless temperature monitoring system using an intuitive dashboard interface with the DataRecorder software widget. All software is browser-based, so it runs on any any type of device or operating system.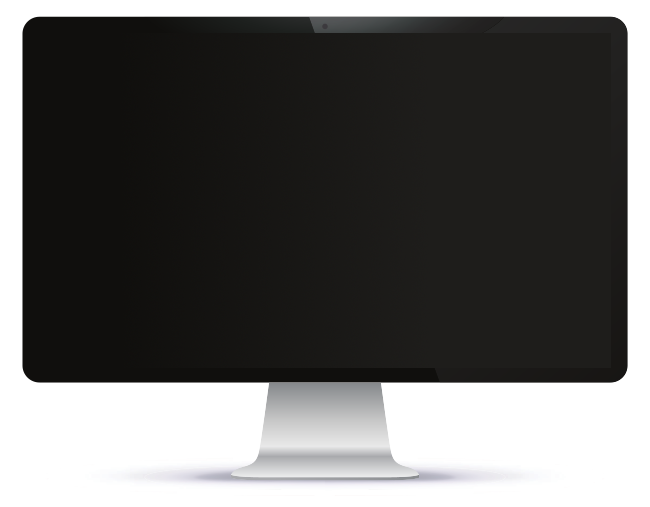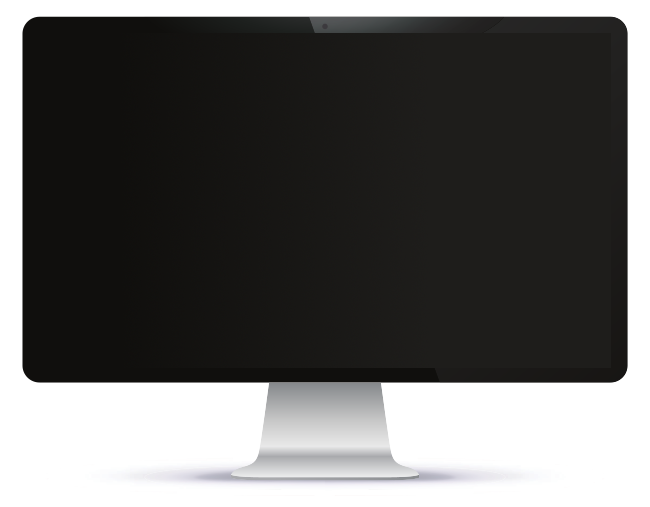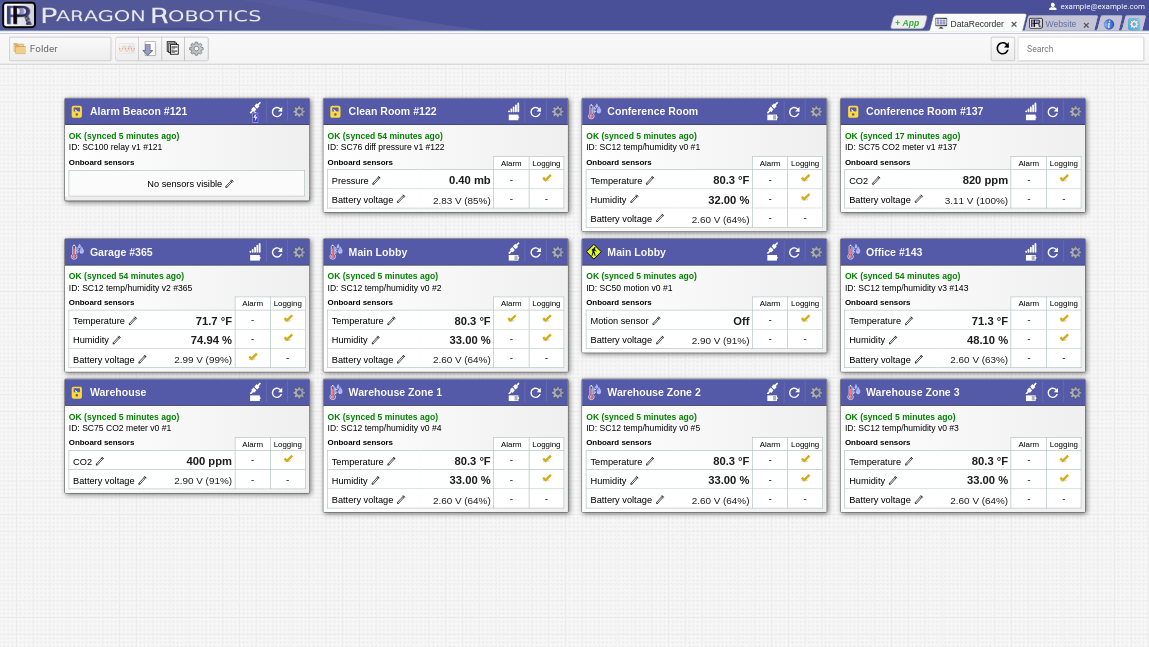 Create sensor alarms and receive immediate notifications
Text/SMS
Set text alerts up on your system for sensor alarms. Available through
HaloCloud.
Email
Set emails to be triggered on notification of a sensor alarm condition. Available through
HaloCloud.
Browser alerts
Receive alarm alerts locally on your computer right in your browser.
Mobile Optimized
Use your smartphone to access device information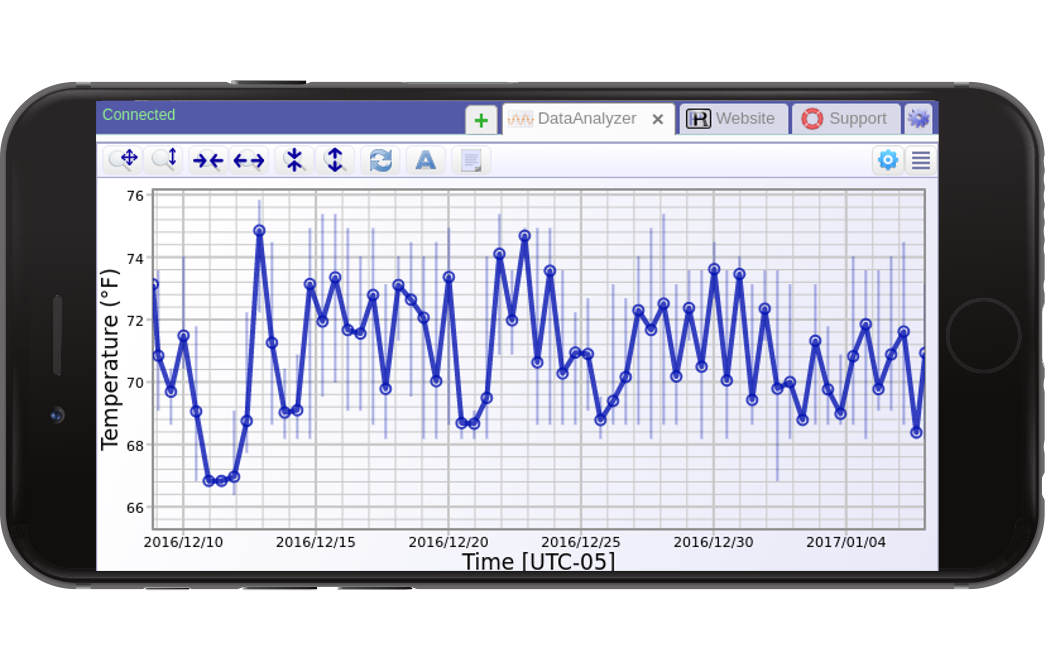 Store 120 billion data points
Store decades of temperature sensor data with practically unlimited space. Your temperature monitoring data is stored right on your hardware and kept completely private. Export data directly into spreadsheets for further analysis and reporting or utilize DataAnalyzer software widget for charting and analytics.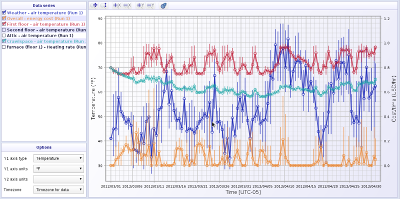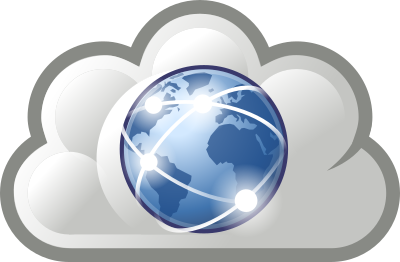 Free cloud access
Our HaloCloud service can be used to have full access to your wireless temperature monitoring system anywhere in the world. For systems with less then seven (7) wireless Model SC sensors, our cloud service is included free with system purchase. Our unique double encryption security keeps your data completely private.
Expansion potential
Humidity
CO2
Differential Pressure
Flowmeters
Occupancy
True Power usage
Door position
Light levels
Others
In addition to a complete line of wireless temperature sensors, our product line includes a wide range of additional wireless sensors which can expand the wireless temperature monitoring system. The system is also compatible with any external sensors or existing instrumentation with VDC or mA outputs.